There are numerous things around the home that need to be dealt with. These are tedious and humdrum tasks that are tiring and require effort and time – which you may not have. Alternatively, you may be the sort of person who prefers to put their time and effort in something they really enjoy. There is, of course nothing wrong with this. We encourage you to see to your happiness, while you let us see to the cleanliness of your home in North West London.
End of Tenancy Cleaning Prices
End of Tenancy Cleaning - Studio
£94

£89

End of Tenancy Cleaning - One Bedroom Property
£150

£145

End of Tenancy Cleaning - Two Bedroom Property
£180

£165

End of Tenancy Cleaning - Three Bedroom Property
£200

£189

Carpet & Upholstery Cleaning
Landing Carpet Cleaning
£10

£9

Bedroom Carpet Cleaning
£28

£23

Living Room Carpet Cleaning
£30

£26

Armchair Cleaning
£20

£18

Two Seater Sofa Cleaning
£50

£45

Hourly Based Services
Domestic Cleaning
£22

£20

/h
One off Cleaning
£23

£21

/h
Deep Cleaning
£24

£22

/h
There is a multitude of companies that offer cleaning services, but these companies rely on their assumed expertise in many field of cleaning. Though we have experts for every problem related to cleanliness, we are renowned for our domestic cleaning. The company employs a lot of people who come from different professional backgrounds. They are trained accordingly so that they can be fully-vetted and certified specialists ready to tackle any sort of cleaning job.
Maria Potter says:
Hi, my name is Maria and you cleaned my property. To say only clean will be an understatement, better to say you made wonders. My flat is so clean, it looks clean, it smells clean, it feels clean. An enormous thank you!
Your personal cleaning assistant is aware of couple of things. First, they know that you have resorted to their service seeking peace and comfort so your maid works with extreme carefulness as to not disturb your rest. Indeed, you can inspect our maids' schedules and appoint time that best suits you. What is more, we encourage you to do just that so that you are not inconvenienced. Normally, it takes our maids a few hours a day to maintain a clean home in North West London, and they can be booked daily, weekly or monthly. It really boils down to how often you need them.
Our cleaning practices are beyond reproach. Not only do we bring our own equipment – which is bought from the most prominent names in business – but do we also use environmentally friendly and child safe approaches that allow your domestic aide to achieve immaculate cleanliness and make your home a healthy place for living. This equipment always includes slick tools – top-of-the-range vacuum cleaners that drone pleasantly in your living room if you happen to overhear the moil and toil of your maid, powerful cleaning chemicals that leave no unpleasant smell after they have been used:
The domestic cleaner you have hired follows a consistent plan that allows them to clean every nook and cranny of your home down to the last stubborn speckle
Living room – vacuum soft furniture and carpets, polish hard surfaces and clean windows
Kitchen – clean appliances, sanitize sinks, clean cupboards
Bedrooms – clean mattress, sweep under beds, dust heavy furniture
All basic household chores – ironing, dishes, laundry
About North West London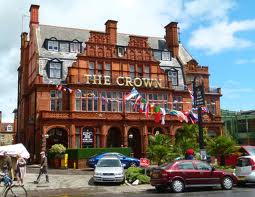 If you are thinking of moving in North West London, with population of 1,8 million people, this area offers both good and not so good neighborhoods to live in. Kilburn's community is very diverse, with both rich and poor boroughs. Known as "little Dublin" and surrounded by wealthier areas, Kilburn is influenced historically by the Irish immigration and nowadays by it's diverse society. Hampstead has lovely cafés, restaurants and pubs, but some of the richest people live there, so this reflects on the prices.
Harriet Walters says:
I have been an estate agent for quite a long time and I manage a lot of properties. This means that I have dealt with numerous cleaning companies, but yours is really one of the best. You organize the service so quickly and so smoothly. The outcome was perfect as well. It is really good to do business with you.
You can always have a great picnic or take a walk on Hampstead Heath and enjoy your day fully. Primrose Hill is an extremely expensive area, but if you can afford it, it has everything to offer – great pubs and stores, beautiful park and it is close to central London. Camden is a too wild place to live in, but it is worth visiting with great night life, pubs and music events, you can meet extravagant and interesting people and buy yourself an old school vinyl record. Kentish Town is a quiet and great to bring out kids. There are nice pubs and taverns where you can try from traditional home-made food to pasta.
North West London is full of entertaining places to have some quality time with friends or family. You can enjoy a live music night at The Dublin Castle, an art show at Roundhouse, watch a play in Tricycle Theatre or just have a drink at your favorite pub. The night life in this area is full of energy and excitement.
We Cover The Following North West London Areas: